If you are in college does your professor or teaching assistant take attendance, If so, what is the maximum number of absences in relation to the total number of classes.
The Following image shows the Attendance Field Details.

Add New : This Button is used to Adding New Attendance List.
In Above image click on Add New Button then it will displays the following image.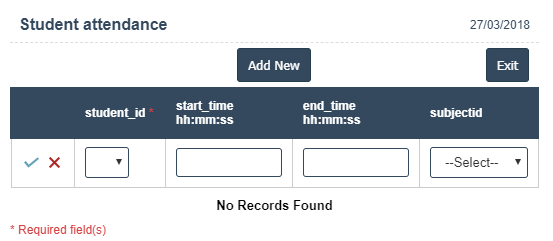 Student Id :

Field Type : VARCHAR

HTML Type : Select

Field Type in DataBase : 10

Start time :

Field Type : TIME

HTML Type : Text

End time

Field Type : TIME

HTML Type : Text

Subject Id :

Field Type : VARCHAR

HTML Type : Select

Field Type in DataBase : 10