Project Dates
Project Dates :
Project Dates are specific dates on a project schedule which the project performers should be focused on while executing a project.
The following Application displays the Project Dates details.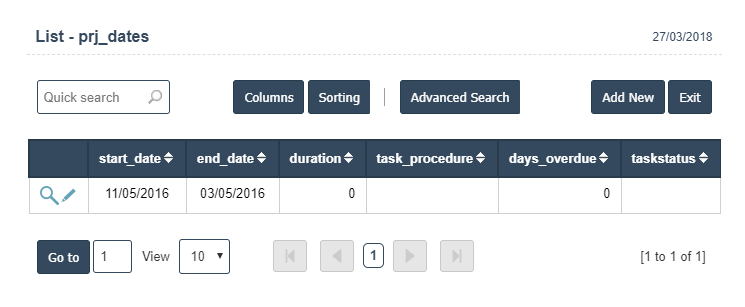 Add New : This Button is used to Add New Project Dates
In Above image click on Add New Button then it will displays the following image.
Duration :

Field Type : INT

HTML Type : Text

Field size in DataBase : 10

Task Procedure :

Field Type : VARCHAR

HTML Type : Text

Field size in DataBase : 255

Days Overdue :

Field Type : INT

HTML Type : Text

Field size in DataBase : 10

Task Status :

Field Type : VARCHAR

HTML Type : Text

Field size in DataBase : 25

History Note :

Field Type : VARCHAR

HTML Type : Text

Field size in DataBase : 30